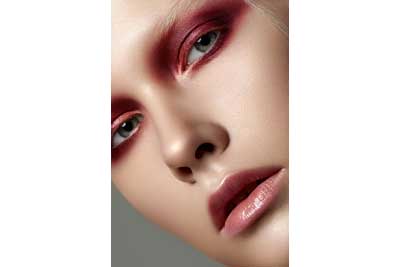 Listen up, Intelligent Beauties. Some rules are just made to be broken. For example, let's talk about red eye shadow. We know: It probably goes against everything you were taught about wearing make-up. Time to cast that rule aside. Our natural beauty Gurus have some beauty tips below, and you're going to love these trendy, sizzling hot, sexy looks…that are achievable with safe, natural make up!
How red can you go?
There's no need to go all out bright cherry red on your lids. This look is more about burnt bronze or copper hues; tones that hit all the right notes of rich, earthy, and sultry. This is where we remind you what a good shopper you are, because our FlowerColor Blushes multi-task safely for both cheeks and eyes. A shade like Peach Rose is a good start for fair-skinned beauties. Deeper skin-tones will look radiant with Wild Rose. Earthy Rose is the right choice for almost any skin tone because of is neutral payoff.
Prime your canvas.
Before you get started on your eyes, even out your skin tone. You want to tamp down any redness in your skin that may be highlighted by your red-hued eye shadow. Use some FlowerColor Cover-up to cover dark circles under your eyes or any other imperfections. Smooth on your favorite shade of FlowerColor Foundation and then set with a bit of FlowerColor Face Powder.
Red Twist #1: Define the line.
Brush your chosen red across each lid and smudge it up into the crease. Red should be contained to this space. If you want to make the transition from lid to brow bone a bit softer, use a shadow closer to your own skin tone and blend it into the edge of the red out to the space below your brow. Use your trusty Velvet Soft Eyeliner Pencil to create a defining line along your lash line.
Red Twist #2: Smoking hot!
Want to heat up your usual smoky eye routine? Try one of these ruby-spiked twists. Use a rich brown tone eye shadow like Earth or Deep Taupe to create a traditional smoky eye. Now reach for your brush and blend your favorite red hue blush over and a bit above the brown. Sexy, right? Alternatively, try brushing your blush on the inside half of your eye lid. Blend out the color by brushing Charcoal Powdered Eyeliner from the center to the outer edge of your eye for a more modern take on things.
Red Twist #3: A light touch.
If you're not ready for a full flame commitment, try a lighter variant on the trend. Pull out your big, fluffy blending brush and use it to swirl a bit of your FlowerColor Blush across your lid for a soft whisper of color.
Red Twist #4: Peek-a-boo
Grab your trusty Velvet Eyeliner for this look. You're going to begin by lining both upper and lower lash lines with your pencil. Now fill in the inner and outer corner of your eyes with the black liner, leaving the center of your lid bare. Blend the color to soften it slightly and pull some of the color out past the outer corner of each eye. Using your favorite brush, fill in the bare center space of your lid with your favorite red-hued FlowerColor Blush. Set your pencil eyeliner with a sweep of Charcoal Powered Eyeliner.
Final Say
Red eyes command attention. Pick a soft, neutral lip color that's not going to compete with your fiery eyes. One of our Vitamin E Lip Smoothers is perfect for the task at hand. If you want a bit more pop than not, try Rhubarb. Otherwise, Go Bare and Petal Pink are both great choices.
Ok, Gorgeous, you're up! Pick your favorite red eye shadow look and give it a try, or create a look all your own. Just don't forget to share it with us. Snap a selfie and share it with us on Instagram. Use the hashtag #EBRedHot! Be sure to tag us @eccobellabeauty.