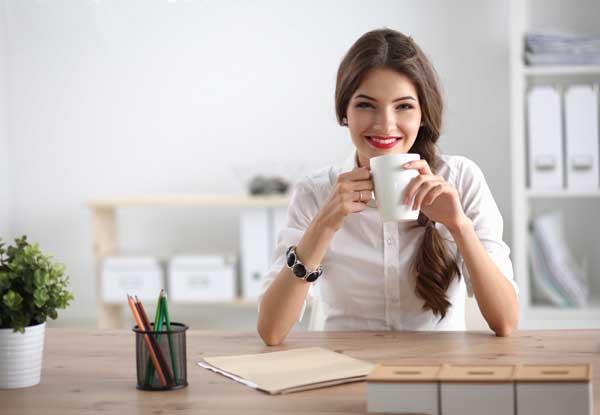 You deserve a night out. In fact, you deserve a night out, tonight. Don't waste time heading home to primp for the evening instead before you head off to work toss a few makeup essentials into your bag. You will have everything you need to transform your look from properly professional to super sexy. In the amount of time it takes the bartender to prep the perfect mojito, you can touch up your look and be ready to go.
Touch up! – It's been a long day (or at least it felt like it was!). Start your make-over by touching up and refreshing your face. Spritz on Natural Mist On Toner and Vitamin Spray. The quick spritz and a makeup sponge will refresh and smooth out your makeup. Next, a few well-placed and well-blended touch-ups of FlowerColor Cover Up will get your look back on track. One last thing: Clean up any smudges under your eyes, too.
Multi-task! – Your earthy-hued eye makeup was just right for the work day, but to go out however, amp up the drama. Ecco Bella Duo compacts are ideal to define and highlight. Your compact will hold 4 powdered eye products, or two blush products and they take minimal room in your makeup bag. To create these multi-tasking compacts make sure to add FlowerColor Powder Eyeliner in Charcoal as one of your 4 eye powders. Add the deep Charcoal dry to the outer corner of the eye into the crease for a subtle evening look and use wet to create a dramatic line along upper lash line. Use your second Duo Compact to hold your favorite blush plus FlowerColor Blush in Purity. Purity blush is the perfect highlighter for that evening glow.
Bonus tip: A quick way to add drama with highlighter is by applying it to the bridge of your nose, crest of the cheek bone and the bow of your lips to draw attention to the center of your face.
Pucker up! – If you've played up your eyes, don't make your lips compete. Select a subtler lip shade like FlowerColor Vitamin E Lipsmoother in GoBare. If you kept your eyes toned down, only adding a dramatic eye liner, raise the volume on your lips with FlowerColor Lipstick in REDvalation, Merlot or Sangria.
And that's it. You're ready to take on the town! Wait, before you head out for a good time, snap a selfie for us. We want to see your evening-out look. Don't forget to tag us on Instagram with @eccobellabeauty and use the hashtag #EBDaytoNight.