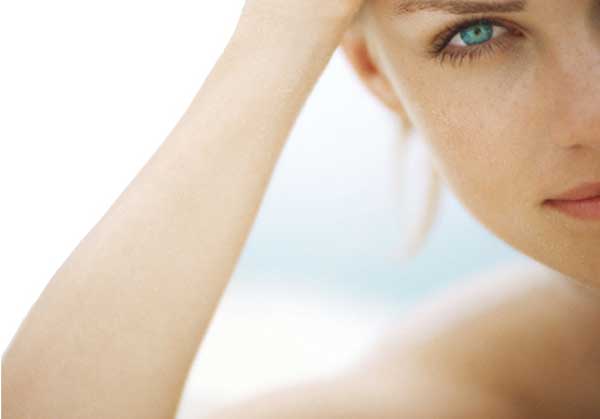 The skin around your eyes is more delicate and prone to dryness than anywhere else on your body. As such, it's also more prone to telegraph fatigue and signs of aging. Fine lines, wrinkles, puffiness, and dark circles are communicating a message, even if you're not verbalizing it. What's a tired, beauty like you to do? Two words: eye cream.
These products are formulated specifically for the tender skin around your eye. They may be thicker than your regular moisturizer and contain more oil, as well as ingredients that will target the signs of tired and aging eyes. But wait. Before you reach for any old product with eye cream in its name, the skin around your eyes is more delicate. That's all the more reason to make sure the product you're using is a natural, organic skincare product that relies on good-for-you ingredients and not chemical concoctions.
Our Natural Eye-Nutrient Cream contains an antioxidant-rich formula that reinforces and replenishes the delicate skin around the eyes. Even better, it does so with natural, rich plant-based ingredients like organic aloe. Then comes the really good stuff packed into trillions of VitaminCells that dive deep into the skin to reverse the signs of aging around the eyes. These powerful antioxidants slowly release their age-fighting benefits to smooth out wrinkles and refresh your skin for a more youthful (and awake) appearance.
VitaminCells contain powerhouses like vitamin C, vitamin E, astaxanthin, beta-carotene, lutein, lycopene, zeaxanthin, CoQ10; and plant oils such as coconut, sunflower and jojoba. Our eyes are sparkling just thinking about it! There's even more wholesome, organic goodness ready to smooth and brighten your precious eyes, but we'll let you read all about it in the ingredient list. Here's all you really need know: these are some of the most powerful anti-aging ingredients in nature. And we've packed them into tiny, soy-based lecithin microspheres just for you!
You're eyes are sending a clear message. They want to experience the anti-aging skin care that lets you reset your body clock. Take a picture of those beautiful, sparkling eyes and share it with us on Instagram. Use the hashtag #EBEyeNutrientCream! Be sure to tag us @eccobellabeauty.